A Brief History of Play'n GO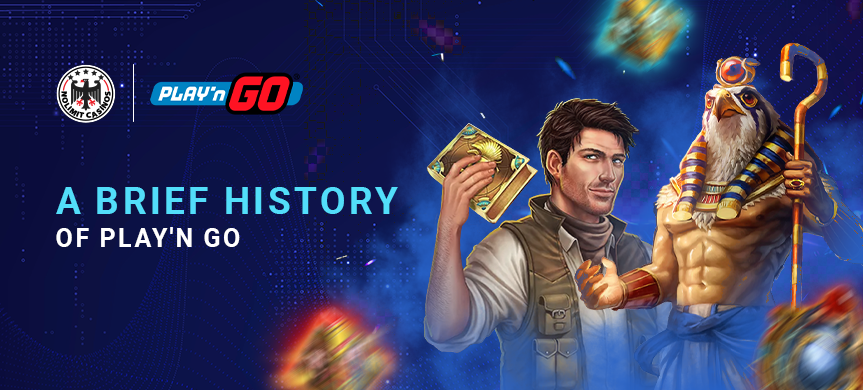 2

Minute gelesen
Introduction
In the vast and competitive market of online casinos, game providers play a vital role in shaping the industry's overall landscape and reputation. Among other leading names in the market, Play'n GO stands out as a renowned gaming provider, continually delivering captivating iGaming experiences to players from all around the world. This blog dives into the intriguing history of Play'n GO, highlighting its experience towards becoming one of the top game provider in the online casino industry.
Founding and Early Years
Play'n GO was founded in 2005 by a group of gaming enthusiasts who wanted to create exceptional casino games for iGamers. Established in Sweden, the company proudly embarked on a mission to develop and provide high-quality, innovative, extraordinary, and entertaining gaming product. With a team of passionate and utter professional individuals, Play'n GO quickly gained recognition for its commitment to excellence and customer satisfaction.
Industry Recognition
Play'n GO's dedication to producing exceptional games led to numerous breakthrough titles that successfully grabbed the attention of both players and industry experts. In 2010, the company released its first mobile game, indicating its vision to stay ahead of the general curve. Play'n GO continued to innovate and impress with standout titles such as "Book of Dead," "Reactoonz," and "Legacy of Egypt," earning well-deserved acclaim for their engaging gameplay, immersive themes, fantastic sounds, and amazing visual design.
Expanding Globally
While initially focused on the European market, Play'n GO's success allowed it to expand its global reach quite noticeably. The company acquired gaming licenses and certifications from multiple reputable and legitimate gambling regulators, enabling it to provide its games to various properly regulated online gaming markets worldwide. Play'n GO's dedication to responsible gaming and compliance played a vital role in creating trust with both online casinos and players, further setting its position as a top game provider.
Partnerships and Collaborations
Recognizing the power of collaborations, Play'n GO forged partnerships with renowned operators and brands across the industry. These collaborations not only helped Play'n GO increase its industry presence but also facilitated the integration of its games on various platforms. Play'n Go's commitment to developing a diverse portfolio ensured that players could enjoy a wide range of themes and gameplay styles, catering to different preferences and tastes.
Innovations and Technological Advancements
Play'n GO's success can be partially assigned to its dedication to technological advancements and innovations. The company consistently welcomes new technologies and trends to enhance the gaming experience for players and online casinos alike. By adopting HTML5 technology early on, Play'n GO ensured that its games were accessible across multiple platforms, including desktops, smartphones, other types of mobile devises, and tablets. This utter commitment to adaptability and future-oriented thinking has been a core strategy in maintaining Play'n Go's position as an industry leader.
Conclusion
Play'n GO's remarkable journey from its humble beginnings to becoming the online casino industry's top game provider is a testament to its unwavering commitment to excellence. Through a combination of groundbreaking titles, technological advancements, global expansion, and fruitful partnerships, Play'n GO has established itself as a trailblazer in the online gaming world. As players continue to seek exciting and immersive experiences, Play'n GO is well-positioned to shape the future of the online casino industry with its innovative games and unwavering dedication to player satisfaction.
---