A Brief History of Pragmatic Play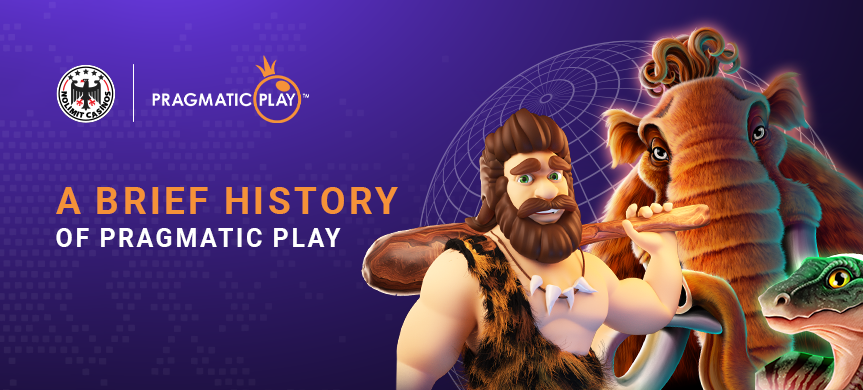 2

Minute gelesen
Introduction
Pragmatic Play has gained a reputation as a prominent player in the iGaming industry, renowned for its high-quality games and innovative approach to the whole deal. With a history rooted in dedication and an utter passion for iGaming, Pragmatic Play has steadily grown to become a leading provider of casino games all around the world. In this blog, we will take a journey through the history of Pragmatic Play, highlighting its major milestones and showcasing this amazing game provider's commitment to delivering exceptional iGaming experiences.
Inception and Early Years
Pragmatic Play, originally known as TopGame, was founded in 2007 with a mission to develop innovative casino games for both – online and mobile platforms. Pragmatic Play quickly gained recognition for its high-quality games and player-focused attitude. Over the years, Pragmatic Play expanded its portfolio, offering a wide range of virtual slots, table games, and other casino content.
Rebranding as Pragmatic Play
In 2015, TopGame underwent a major transformation and rebranded as Pragmatic Play, which better reflected on their commitment to providing creative and innovative gaming solutions. The rebranding was accompanied by a strategic switch, focusing on providing cutting-edge technology, captivating game mechanics, fantastic sound effects, and captivating visuals to enhance the overall player gaming experience.
Expansion and Licensing
Pragmatic Play's dedication to excellence led to significant growth and expansion in the following years. They acquired numerous licenses from reputable gaming authorities, including the UK Gambling Commission and the Malta Gaming Authority. These licenses not only ensured compliance but also strengthened their reputation as a trusted and reliable game provider.
Mobile Gaming Revolution
Understanding the increasing popularity of mobile gaming, Pragmatic Play took early steps to optimize their games for mobile platforms. They embraced HTML5 technology, allowing their games to run smoothly on various devices, including smartphones and tablets. This mobile-friendly approach ensured that players could enjoy Pragmatic Play's games on the go, anytime and anywhere.
Innovation and Recognition
Pragmatic Play's commitment to innovation and pushing the boundaries of game development has resulted in numerous accolades and industry recognition. Their focus on creating immersive experiences with engaging features, stunning visuals, and unique themes has captivated players worldwide. They have been awarded multiple prestigious industry awards, including EGR B2B Awards, Malta Gaming Awards, and Global Gaming Awards.
Partnerships and Collaborations
Pragmatic Play has established strong partnerships and collaborations with leading online casinos and operators, further solidifying their position in the industry. These collaborations have enabled Pragmatic Play to expand its reach and make its games accessible to a wider audience. By collaborating with prominent brands, Pragmatic Play has continually introduced exciting new titles and enhanced the gaming experience for players.
Conclusion
Pragmatic Play's journey from its inception to becoming a powerhouse in the gaming industry showcases their unwavering commitment to innovation, excellence, and player satisfaction. With a rich history of delivering exceptional gaming experiences, Pragmatic Play continues to push boundaries, captivate players with their cutting-edge games, and shape the future of online gaming. As players eagerly anticipate what Pragmatic Play has in store, one thing remains certain: the company's dedication to providing top-quality gaming experiences will continue to drive its success in the years to come.
---