How to Register on OASIS Player Ban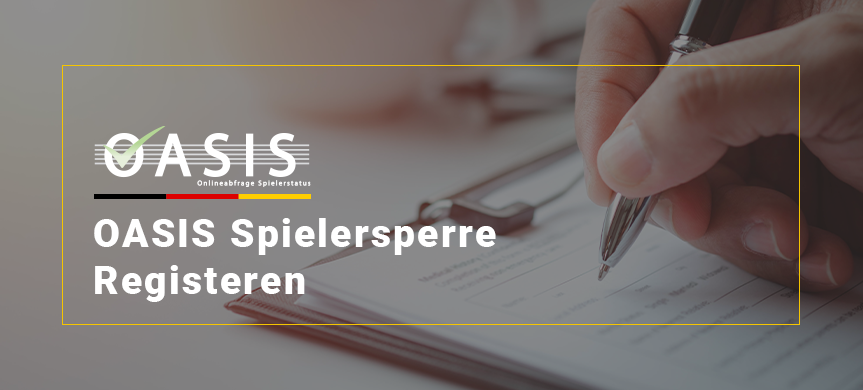 1

Minute gelesen
Any player in Germany can self-exclude themselves and submit an official request to be included in the OASIS player ban database.
Additionally, German players can submit the filled-out application directly to the Darmstadt Regional Council. The official application form can be downloaded directly from the DRC's website and should be properly and completely filled out before submission. An online application is not possible; the self-exclusion form should be filled out first and then sent back to the DRC.
The OASIS player ban can be either temporary or long-term. The indefinite player ban has a minimum duration of one year, while the temporary ban has an individual term of at least three months.
What data does the OASIS player ban store?
The Interstate Treaty on Gambling 2021 stipulates that the following data could be recorded and then stored in the OASIS player blocking file:
Names – surnames, first names, and birth names
Pseudonyms and other possibly used names
Date of Birth
Place of Birth
Official Address
The reason for suspension and the duration of suspension
Picture
Any other document relevant to the player blocking
Gambling establishments can only see the status of a player (whether they are self-excluded, third-party excluded, or not excluded) but not other data regarding the player's personal information. The contents of the block file are also unavailable to any third parties or other information systems such as SCHUFA, banks, or credit facilities.
What is the 24-h Player Ban aka "a Panic Button"
The Interstate Treaty on Gambling also requires the implementation of the "Panic Button" for all iGaming establishments, online casinos, online poker providers, and sports betting providers. This panic button allows players to temporarily self-exclude themselves from the game for a short period of time.
The panic button doesn't require confirmation and will ban a player from the game for only 24 hours. In contrast to the limited or unlimited OASIS player ban, this 24-hour player ban expires by itself without requesting its lifting. After the 24-hour period has lapsed, the player can return to taking part in online gaming again.
---