How to Remove your OASIS Player Ban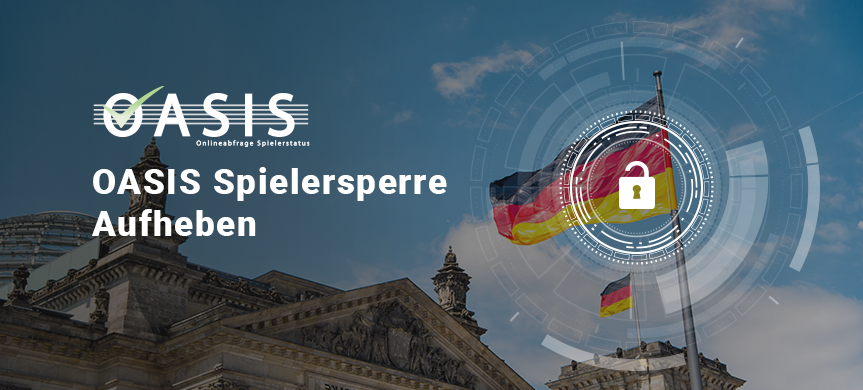 The first thing every player should know about removing the OASIS player ban is that only the Darmstadt Regional Council can lift player bans. The application for removing the OASIS player ban can be filled out using the official form found on the DRC's website. In case a player submits their OASIS removal application to a specific gaming operator, the latter will then forward that application to the DRC. As for the temporary player block (a 24-hour panic button), it doesn't require submitting additional applications – this player ban will end automatically.
A player can apply for lifting their OASIS ban after the minimum self-exclusion period has ended, i.e., after three months at the earliest for a temporary ban and after one year at the earliest for an indefinite ban. Applications submitted too early will not be processed and must be submitted again.
If the DRC decides to lift a player's OASIS ban, the player will be informed accordingly. In case of a third-party player ban, the applicants shall also receive a notification, both about the application for removing the OASIS and about unblocking their requested player.
Removing the OASIS player ban is not effective immediately but only after the initial period of exclusion has lapsed. The length of this procedure is one week in case of self-exclusion and one month for third-party exclusions.
The OASIS Blocking System – what's the difference between self-ban and third-party ban?
As already established, German players are free to either self-exclude from online gambling or they can be third-party excluded. The self-exclusion can only be done by a player himself/herself with corresponding proof of self-identification.
Players can also be third-party excluded. However, a player cannot be third-party excluded by any person, and in the case of a third-party ban, the player concerned must always be heard as well. The third-party ban can be imposed by the online gaming establishment itself and/or by the people close to the player, such as family members, relatives, partners, etc.
In case of the third-party ban, the applicants must provide justifications and proof of the player at risk's gambling addiction, documentation of gambling-related debt, proof of gambling-related risky behavior, etc.