OASIS Player Ban – How Does This Blocking System Work?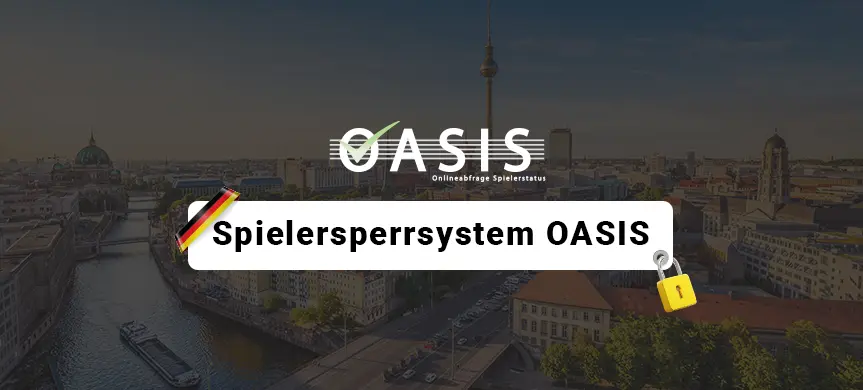 General Overview
It's 2023 now, and pretty much everyone knows about OASIS – the German player ban system that works nationwide in Germany. German punters who register for the OASIS player ban services are thus excluded from every gambling establishment and online casino that abide by the local gambling regulator's rules.
The initial purpose of the OASIS player ban is to help players against gambling addiction. The Interstate Treaty on Gambling 2021 (otherwise known as the GlüStV 2021) regulates the OASIS and requires mandatory participation in the player-blocking system from locally regulated online gambling establishments.
Even though this player-blocking system intends to help with gambling addiction, it comes with many restrictions and uncomfortable procedures for German players. Let's see what exactly it does and what information is there to know about this self-exclusion system.
What exactly is the OASIS player ban?
The OASIS player ban is a German player blocking system that prevents players from accessing gambling establishments and online casinos when they register for the OASIS services. The OASIS player ban is an integral part of Germany's Interstate Treaty on Gambling. The Treaty officially requires all locally licensed and regulated online gambling establishments to integrate the OASIS player ban onto their platforms and provide necessary information regarding player-blocking services to their customers.
The Regional Council of Darmstadt in the federal state of Hesse is permanently commissioned to oversee and regulate the operation of the OASIS player ban and is responsible for its proper implementation onto locally licensed online gambling establishments.
In order to access an online gambling facility in Germany or be able to play games in those establishments, German players are required to undergo complicated KYC procedures and identify themselves. The online gambling operator is then obliged to compare that player's data with the OASIS player ban database and make sure that the player isn't blocked by the OASIS. Banned players with active self-exclusion or third-party exclusion cannot gain access to online gambling in GGL-licensed online gaming facilities.
Which Gaming Facilities and Operators are Connected to the OASIS Player Ban?
The official Interstate Treaty on Gambling, or the GlüStV 2021 states that the following establishments are required to implement the OASIS player ban onto their official websites:
Arcades with Slot Machines, where money or goods can be won
Slot Machine Operators
Lotteries
Commercial Gaming Facilities
Horse Betting Websites
Online Poker Providers
As already established, the OASIS player ban applies to practically every type of online gambling activity and its provider.